Welcome to the Coulsdon West Residents' Association,
'Where Community Matters'
Our aim is to help residents in West Coulsdon, and make Coulsdon a great place to live.

We work in coordination with our sister RAs, as well as other local groups which share common interests, such as Friends of Rickman Hill Park.

To achieve our aims we need more general members as well as volunteers to join or assist the Committee.

We are stronger together.


News from the Community
Stop Press: 15th October 2023: A Community Litter Pick

Sadly, due to illness with the Croydon Council representative, the Litter Pick at Lion Green Road has had to be postponed.

We will advise of the new date as soon as possible.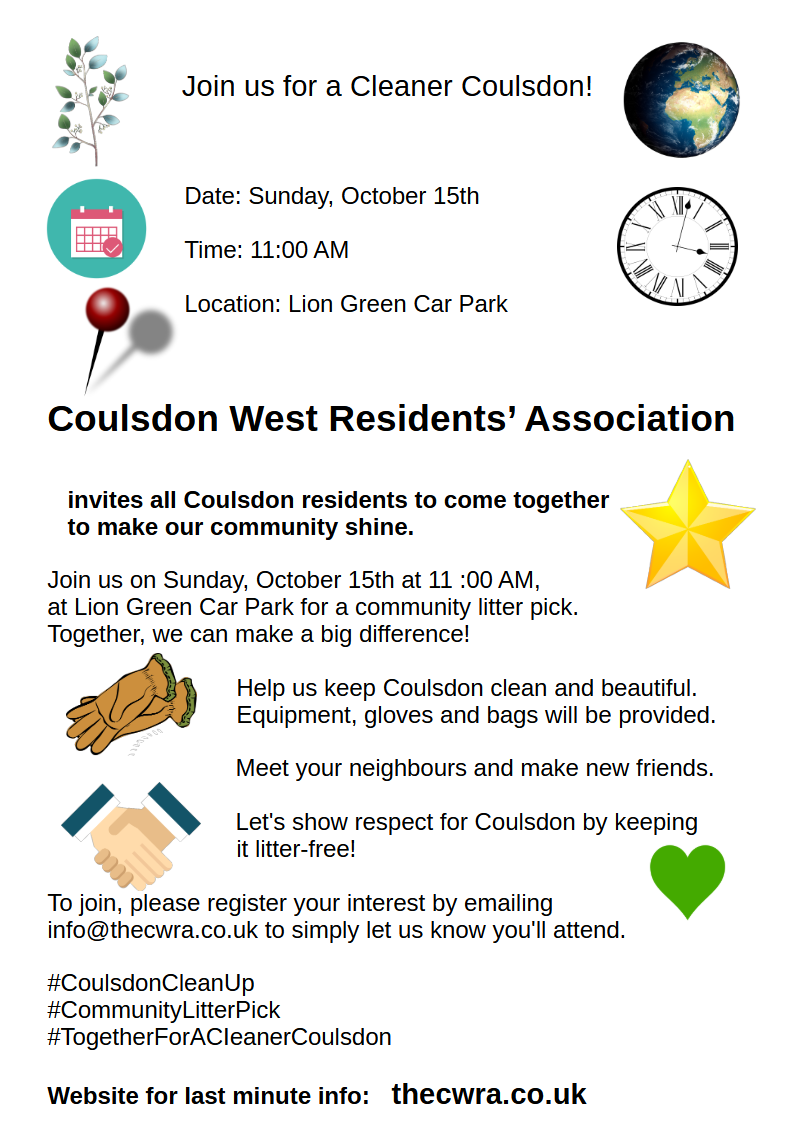 Thanks to Gary at Advanced Print for assistance with the posters and the great value hi-vis vests
and to the following businesses and shops in Coulsdon that hosted one of our Litter Pick posters:

Notorious Ink,
Daniell Adams,
Cafe Nero,
Scope,
Fireaway Pizza,
Brian Car Sounds,
Coulsdon Hardware,
Smallworths/Coulsdon Repairs Centre,
Toriton Izakaya,
The Photo Shop,
Puzzle Kitchens,
DD's Cafe,
I Calabresi,
Londis,
Coulsdon Autos,
Wood and Stone,
Top Marks,
Auto Fix,
Precious Moments.


Have you seen any wildlife recently, in your gardens, or whilst on a walk in, or nearby, Coulsdon?
You might well have seen something rare or threatened... but how do you find out?
There is a list of 'priority species' for London, accessible via this link which indicates the status of birds, reptiles, amphibians and mammals, as well as other fauna and flora.

You can contribute to the record books by reporting your sighting to the Greenspace Information for Greater London, GiGL via this link
This organisation is London's Environmental Record Centre.
As such, the databases that they keep may be searched to discover the number of sightings of a particular species in the vicinity of, say, a planning application for a new development.

Any sightings of slow worms, common toads and animals of similar 'priority' that you can provide will feed into this process, and it all helps to build an accurate picture of our environment.
It's a lot more than just bats and cuckoos (both of which also feature in the priority list)!
Annual General Meeting
In 2023, we held our AGM on Thursday, 8th June at 7:30 at the Community Centre, Barrie Close (off Chipstead Valley Road).

We had as our guest speaker, City of London Commons Ranger, Tom Oliver, who told us about his work on our local greenspaces, including Happy Valley and Farthing Downs.

About 35 members representing around 30 CWRA households attended, a minor improvement on the previous year!
We welcomed guests Councillor Mario Creatura (Coulsdon Town Ward) and representatives from East Coulsdon, Old Coulsdon and Cane Hill Park Residents' Associations.

The minutes of the AGM, and other relevant papers can be found on our AGM page here.


Since the AGM
We have co-opted additional committee members Jennifer Sturdy and Dave Mott.


News: Defibrillator Latest
Thanks to the wonderful support from the community, CWRA was able to purchase a defibrillator in 2022.
This has now been installed at the Smugglers' Inn, on Chipstead Valley Road, opposite the Esso garage.
This valuable asset to the community is outside the pub, so that it will be accessible at all times.

Latest information shows that the defib has been accessed six times since installation.
... This doesn't always mean that the device was used, but the access code was asked for from the London Ambulance Service.

This text is taken from an NHS website about community defibrillators:

What is a defibrillator? What is cardiac arrest?

When a person goes into cardiac arrest, their heart stops beating normally as the electrical activity in their heart becomes uncoordinated. A defibrillator sends out an electrical shock, to stop the heart, with the aim to get the heart to 'reset' and start naturally into a normal rhythm.

Can it really make a difference?
Definitely! The immediate delivery of CPR (cardiopulmonary resuscitation: chest compressions - with or without rescue breaths), combined with rapid use of a defibrillator, produce survival rates exceeding 50%.


Click here for up-to-date NHS CPR instructions.

Other News

Another newsletter will be coming soon! Send us your ideas and comments.

The last newsletter (Spring 2023), and all previous issues, are available in digital form here (opens in new page).


Members who are not received any newsletters, please contact us!
Help spread the Word!
We only have around 300 members - so there is 'room for improvement'!
We desperately need new road stewards, to get to know all of their neighbours, and to encourage them to sign up and join CWRA, whilst thrusting a newsletter at them!
We also need more members and committee members... and, if you would like to help without the formality of being on the committee, please let us know.

Any ideas on how to achieve this, or assistance in delivering newsletters, would be most welcome.

Planning
Sadly, the Council's planning department is in disarray: there is no enforcement being undertaken at all.
If you are affected by nearby developments which aren't following the approved plans (or don't have permission at all), then I suggest writing to Jason Perry directly.

The Planning page is being updated, updates on older applications are here.


We engage with various people and bodies to campaign on behalf of our members, such as
Our MP, Chris Philp.
The Executive Mayor of Croydon, Jason Perry.
Our local councillors: Luke Shortland, Mario Creatura, Ian Parker.
Croydon Council's planning department.
Council officers.
Decision makers in the NHS.
The London Green Belt Council.
Transport For London (TFL).
The Road Users Forum.
The East Surrey Transport Committee.
The Neighbourhood Safety Team.


GDPR: We encourage all members who don't remember sending us a consent form to read the statement here and send us a new consent form.

The email links below do not always work, depending on the configuration of your own email system.
In that case, just copy the highlighted email address without the spaces into your email software.

To contact us about general enquiries:

To ask about membership details: